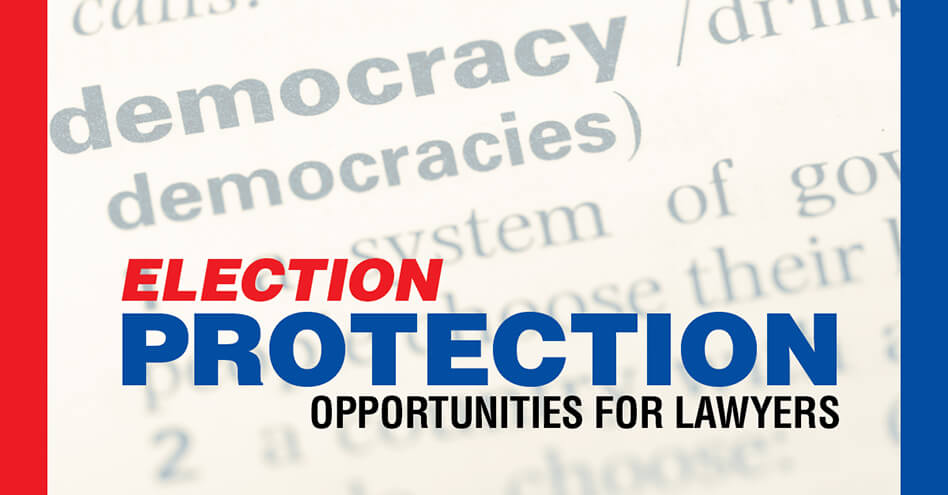 "There have been other times in our history when we have been slow to realize the gravity of the situation we are facing and, with hindsight, wished we had spoken up, done more, taken a stand. It is never partisan to defend democracy, to defend the freedoms embedded in our Constitution and to defend the rule of law. All of these values depend on free and fair elections." -- Susan J. Kohlmann, President, New York City Bar Association
Recognizing that our elections, and thus our very democracy, are under grave threat, and believing that lawyers are uniquely qualified and equipped to respond to the threat, the New York City Bar Association is urging the legal community to take action to protect our elections.
The following election protection opportunities for lawyers will be updated as new information becomes available.
Poll Workers
With the retirement of many poll workers because of Covid, age or threats of violence and other forms of intimidation, poll work is among the most important services lawyers can provide at this time. How reassuring would it be to have officers of the court and guardians of the rule of law – who swore to uphold the constitutions of their nation and respective state – working the polls when issues arise?
The National Association of Secretaries of State has a web page where you can find out how to become a poll worker in your area.
"We the Action," an organization connecting lawyers with causes, also has a website where you can sign up to be a poll worker and receive information updates.
The American Bar Association's Section of Civil Rights and Social Justice's Perfecting Democracy initiative is collecting info from volunteers to match them with national, state and local organizations that protect voting rights. Fill out the form with your preferences for when you can volunteer (Early Voting, Election Day and/or Post-Election) and areas of interest (Nonpartisan Poll Monitor, Remote Monitor, Post-Election Activities, Redistricting, Voting Rights Litigation).
The ABA's Poll Worker, Esq. website provides information on which states offer CLE credit for lawyers doing poll work.
LatinoJusticePRLDEF's Cada Voto Cuenta 2022 deploys bilingual poll monitors (and pairs English and Spanish-speaking duos) to be the eyes and ears on the ground to ensure all eligible voters have access to the ballot box. For this election they will focus on Florida, Georgia, Pennsylvania and New York. Volunteers will be trained to identify voter access violations, language accessibility issues, voter intimidation or suppression activities, and other barriers to voting. Learn more and volunteer here.
Information Hotlines
Hotlines provide immediate voter access to information about polling places, eligibility, early and mail-in voting, provisional ballots and other questions typically asked by voters. Hotlines can be staffed by law firms or by individuals working through non-partisan organizations. Probably most well-known is the Lawyers Committee for Civil Rights under Law's "Election Protection" hotline (1-866-ourvote). Information about the Lawyers Committee program, including sign-up procedures, is available at https://866ourvote.org/volunteer, which routes potential volunteers to the "We the Action" website mentioned above, where lawyers can volunteer for call centers, field work at polling places, or both. (Note: the Lawyers Committee hotline is at full capacity for the midterm elections.)
In New York State, voters with questions can be advised to call the Office of the Attorney General (OAG) Election Protection Hotline at (866) 390-2992. More information is here.
Pro Bono Legal Help
A new nonpartisan organization, the "Election Official Legal Defense Network" (EOLDN), has recently been created by two prominent election lawyers – Bob Bauer and Ben Ginsberg – with extensive experience representing, respectively, Democratic and Republican candidates in previous elections. Lawyers can sign up on EOLDN's website to provide pro bono legal assistance to state and local election officials who face possible prosecution, harassment or threatened violence for performing their statutory and civic duties. (Election officials can request help on the website as well.) At the City Bar's urging, EOLDN is also seeking law firm commitments to connect with election officials prior to election day in order to establish working relationships and educate participating lawyers in likely issues facing their prospective clients. For New York lawyers working in national firms, note that EOLDN has identified the following states as priorities for recruitment: Arizona, Florida, Georgia, Michigan, Nevada, North Carolina, Ohio, Pennsylvania, Texas and Wisconsin.
Information and Toolkits
Voter Engagement Toolkit for Nonprofits: The 2022 Voter Engagement Toolkit serves as a guide for nonprofits to effectively educate and mobilize their communities for civic engagement. This toolkit includes checklists, FAQs, and sample content for nonprofits to encourage voting in their community and network. Explore the toolkit here.
_____________________


Watch an Election Protection program featuring Bob Bauer, Ben Ginsberg, ABA representatives, and more here.
Sign the Pledge: Join the 1,000+ lawyers who have signed the City Bar's pledge on voting and the rule of law here.
Read City Bar President Susan J. Kohlmann's column on election protection here.
Read the City Bar's report "The Consent of the Governed: Enforcing Citizens' Right to Vote" here.
Read the ABA's August 2022 Resolution and Commentary on Election Administration Guidelines here.