The City Bar Fund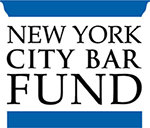 Founded in 1946, the City Bar Fund is the nonprofit 501(c)(3) arm of the New York City Bar Association aimed at engaging and supporting the legal profession in advancing social justice. The City Bar Fund operates four programs — the City Bar Justice Center, the Cyrus R. Vance Center for International Justice, the Office for Diversity and Inclusion, and the Lawyer Assistance Program, which collectively:
Expand access to justice for the underserved in New York City — immigrants, the homeless, victims of domestic violence and other vulnerable groups
Advance global justice by engaging lawyers across borders to support civil society
Promote diversity and inclusion in the profession by assisting law firms and corporations in adopting best practices
Provide professional experience, development and educational programs for New York City students interested in pursuing legal careers
Provide mental health services and substance abuse counseling to New York City legal professionals
The programs supported by the City Bar Fund change individual lives in a way that positively impacts New York City and communities all over the world. Last year alone, the programs helped more than 30,000 people. The City Bar Fund is the heart of the New York City Bar Association and will continue to make a positive impact in years to come.