Help for Small Law Firms - NYC Bar Small Law Firm Center Events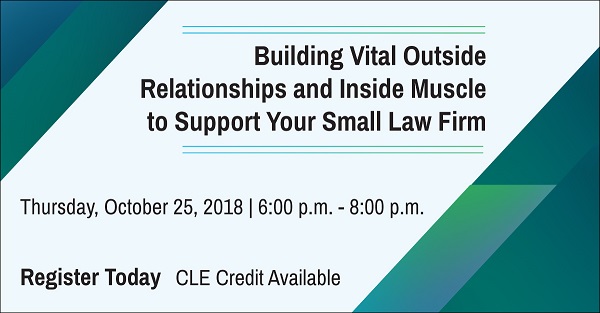 "Small Firm Big" - Come and hear how a small firm can operate just like a big firm with the right consultants, service providers, computer and web-based assistance, full use of the expertise of experts witnesses, joint prosecution/defense agreements and co-counsel. A panel of third-party service providers, experts and consultants will tell their best collaborative stories and show you how to maximize your results, minimize your work and streamline your cases to compete with the biggest firms out there.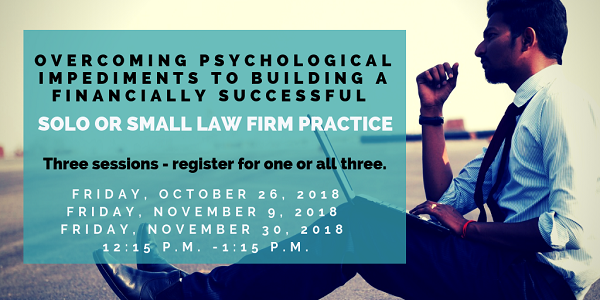 We can all agree that law school doesn't prepare you for managing the financial aspects of a solo or small group practice! This is a major source of stress for many lawyers, yet the challenges are more psychological than practical. You probably know how to bill; the challenge might be getting yourself to do it.
This is a workshop aimed first at helping you understand the psychological and emotional challenges hidden in setting rates, billing, collecting, and marketing; and second at helping you apply psychologically savvy tactics to manage these so you can build a financially successful practice.
Money is a highly charged topic which stirs up powerful feelings in everyone. There is probably no subject which arouses more feeling with less understanding. Understanding your own feelings and attitudes about money and making money is essential for success: Once you know your vulnerabilities, you can take steps to counter them.
Each meeting will begin with 25-30 minutes presentation on the topic at hand followed by a discussion. Participants will be expected to bring up some of the problems they've run into for discussion — and to help each other out by brainstorming together about possible solutions.
The goal of this program is to assist practitioners in managing and improving client intake. Seasoned lawyers will discuss best practices for initial client consultation; conflict check; case assessment; client fit screening, including client ability to pay fees; the engagement letter and retainer; and building the client relationship from the outset. The program will serve as a key primer for lawyers in firms of all sizes, but will be geared primarily for solo and small law firm practitioners.