Thurgood Marshall Summer Law Internship Program
The Thurgood Marshall Summer Law Internship Program places diverse New York City public high school students with legal employers for the summer. This program runs annually from March through July and is part of the Association's continuing efforts to enhance the diversity of the legal profession.
Student applications for summer 2019 are now closed.
Application | For Employers | For Volunteer Attorneys | Support | Contact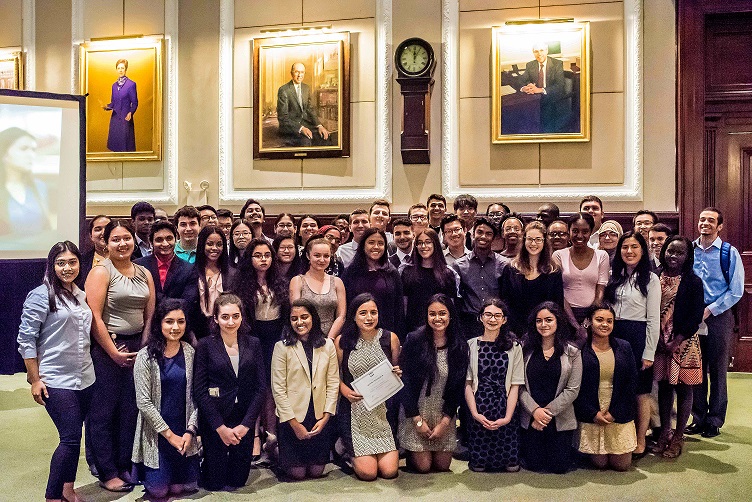 Students from the 2017 Thurgood Marshall Summer Law Internship Program celebrate their successful completion of the program with a Closing Graduation Ceremony in August 2017. Photo by T. Clay.
The Thurgood Marshall Summer Law Internship Program is an intensive program which places diverse NYC public high school students with legal employers for the summer, and provides them with additional programming before, during, and after the summer designed to help them prepare for a legal career.
Students are selected to participate in the Program based upon personal interviews and demonstrated academic excellence. Job assignments in firms vary depending on the needs of the employer, but typically include assisting paralegals, filing, record keeping, assisting library and back-office personnel, data entry and document and exhibit organization.
Prior to interviewing with employers, all applicants participate in a mandatory, three-part Pre Employment Training. The purpose of this training is to identify the students who are most prepared to take on the requirements of the Thurgood Marshall Summer Law Internship Program, and to provide valuable training for all students to help them strengthen their application materials for future opportunities.
In addition to their employment, the interns attend the following development workshops:
Pre-Employment Trainings
Programs held between February - May
These trainings, in collaboration with human resources representatives from partner firms and career services professionals from regional law schools, provide all applicants with one-on-one resume and cover letter review, presentations on interview preparation, mock interviews, and general office etiquette including email/telephone training, speaking and presentation exercises; and professional attire workshops.
Orientation
Monday, June 24, 2019 at 6:30pm
Roundtable orientation sessions, led by alumni of the program, include discussions on successful internship guidelines, such as workplace attire, electronic etiquette, networking, interacting at meetings and workshops, and tips for making a lasting impression.
Diverse Career Opportunities Panel
Date TBA
A panel of four attorneys in diverse career fields speaks about their career paths and provide advice for attaining one's professional goals. The students are then divided into small group sessions with attorneys who speak about their career paths, and the students report back to the group, followed by an open networking session.
Speed Networking
Date TBA
A comprehensive networking training, followed by participation in a Speed Networking Program hosted by a law firm, during which students meet in speed-sessions with volunteer attorneys.
Job Shadow Week
Date TBA
To culminate their internships, students spend a week shadowing attorneys in companies and organizations; each student is paired with the company that most closely aligned with their career aspirations. The students participate in meetings and observe attorneys within each organization. Job Shadow Week may also include a law school tour and/or courtroom visit.
Closing Ceremony
Tuesday, July 30, 2019 at 6:30pm
Students attend a small graduation ceremony and reception featuring remarks from supporters of the program and receive a certificate of successful completion.
Alumni Council
To encourage continued participation in the Thurgood Marshall Program, the City Bar implemented an Alumni Council to provide support and programming for past participants. To participate, please fill out the Alumni Council Registration Form.
Program Support

For more information, please contact:
Van Ann Bui
Chair, Diversity Pipeline Initiatives Committee
E: VanAnnBui@seo-usa.org
Grace Pickering
Secretary, Diversity Pipeline Initiatives Committee
E: gpickering@legaloutreach.org