Diversity and Inclusion Celebration Dinner
Wednesday, June 27: Diversity and Inclusion Celebration Dinner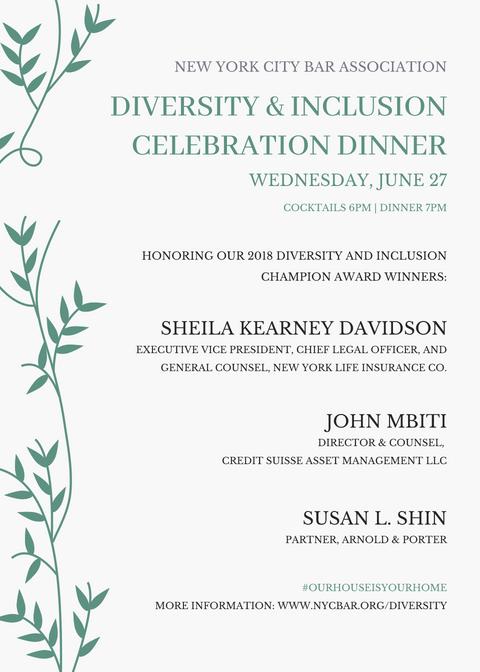 2018 Diversity and Inclusion Champion Award Winners' Bios
Award Information and Past Winners
Location:
House of the Association
42 West 44th Street, New York, NY 10036

Cocktails 6pm | Dinner 7pm
For more information, please contact Bijal Shah at bshah@nycbar.org or (212) 382-6773.


Follow @NYCBARDiversity and look out for #OurHouseIsYourHome stories as we celebrate the professional journeys of students who have walked through the House of the Association as City Bar Pipeline program participants. You can help strengthen pipeline programming and opportunities for the next generation of legal professionals by donating to the #OurHouseIsYourHome campaign at bit.do/citybar18 or by texting CITYBAR18 to 91999.
Read more about the #OurHouseIsYourHome campaign here.