New York Health & Racquet Club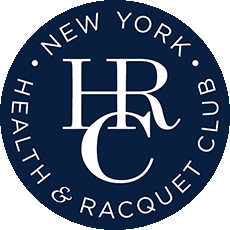 *Please note the 23rd Street and 50th Street locations will be closed as of 9/1/19. In addition, there is a new collaboration with Life Time HRC. For more details, please visit: https://nyhrc.com/collaboration/
New York Health & Racquet Club (NYHRC)
NYHRC now offers all NYC BAR MEMBERS and EMPLOYEES, *spouse/domestic partners
a great way to stay fit and healthy!
* Spouse/significant other must live at the same address the
sponsoring employee/member resides and sign up at the same time as the NYC Bar member.
he NYC BAR member must also be an NYHRC member for the spouse to enroll and proof of marriage is required.
Membership includes:
• Eligible NYC BAR MEMBERS and EMPLOYEES may enroll for just $99/month (6 month commitment) or paid in full for $1,045/12 months -spouses or significant others are eligible too.
• Weekly classes including: Yoga, Pilates Mat, HRC Cycle, Zumba, Kick Boxing, Tai Chi, Boot Camp, Gyrokinesis, Aquacise, Kangoo, Belly Dancing, and much more.
• State of the art Cardio and Strength training equipment. Complimentary personal training session upon enrollment; thereafter purchase price of personal training packages vary depending on level of trainer.
• Squash, racquetball, and basketball courts at various locations.
• Pools, whirlpool, steam, sauna, and eucalyptus inhalation sauna at locations.
• Locker & Laundry service available for rental service. Free use of daily locker, along with all toiletries.
• Massage-Swedish, Shiatsu, Sports, Medical. All available for purchase and given by licensed massage therapists.

To enroll or to find club locations go to http://workfit.nyhrc.com
Must use corporate code: NYCBAR15 to enroll
For more information or to receive a week pass contact:
Jensey Cordero at
(212) 220-0688 or via email at jcordero@nyhrc.com