Overview & Hours
Library
The Library of the New York City Bar Association is a nationally recognized research facility and is among the largest member-supported law libraries in the United States.
Library Hours:
The library is open Monday - Friday from 9:00 a.m. – 5:00 p.m.

Holiday Schedule 2022 (the House and Library will be closed)
Martin Luther King, Jr. Day - Monday, January 16, 2023
President's Day - Monday, February 20, 2023
Memorial Day - Early closing at 2:00 pm on Friday, May 26. Closed Monday, May 29, 2023
Juneteenth (observed) - Monday, June 19, 2023
Independence Day - Monday, July 3 and Tuesday, July 4, 2023
Labor Day - Early closing at 2:00 pm on Friday, September 1. Closed Monday, September 4, 2023
Thanksgiving - Early closing at 2:00 pm on Wednesday, November 22, 2023. Closed Thursday, November 23 and Friday, November 24, 2023
Christmas/New Year's Break - Monday, December 25, 2023 through Monday, January 1, 2024 (reopen Tuesday, January 2, 2024)
The City Bar's Library has an extensive collection of current and early edition treatises, current and superseded statutes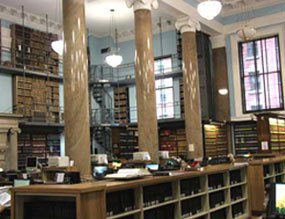 for Federal and all state jurisdictions, case reporters, and law reviews. The library also contains a comprehensive collection of U.S. and New York State appellate court briefs and records on appeal.
The library provides significant electronic research resources for members without charge. Both Lexis and Westlaw are available, with access to federal and all states statutes, cases, administrative decisions, and most New York treatise material. A broad range of forms and many law journals and reviews can also be retrieved. All of the library computers include links to HeinOnline, a massive, imaged database of law reviews and journals, to search, download, read and print. Several CCH reporters are also supported in electronic format.
In addition, the library supports limited remote access for small law firms and solo practitioners through the City Bar's homepage. Members can search and download a subset of Westlaw forms (including McKinney's Forms and New York Forms: Legal and Business), Fastcase, HeinOnline and LLMC Digital, a database of historic federal, state, legal and foreign material.
Our knowledgeable reference librarians assist more than 2,000 visitors to the library every month. The professional staff is thoroughly familiar with the library's collection and is prepared to direct you to appropriate sources - print or electronic - and assist in formulating research strategies. To reach the reference desk call (212) 382-6666.

The City Bar gratefully acknowledges the support of LexisNexis in providing online research services to the staff of the Association.