Student Ambassador Program
In September 2013, the New York City Bar launched the Student Ambassador Program at local area law schools. The student ambassadors represent the New York City Bar Association by communicating the benefits of membership, promoting relevant events, increasing student engagement, and recruiting new members at on campus events as well as City Bar programs and receptions.
Student ambassadors have the opportunity to take a leadership role within the Association and gain visibility while developing a strong professional network in an association that includes 24,000 of the best legal minds in New York.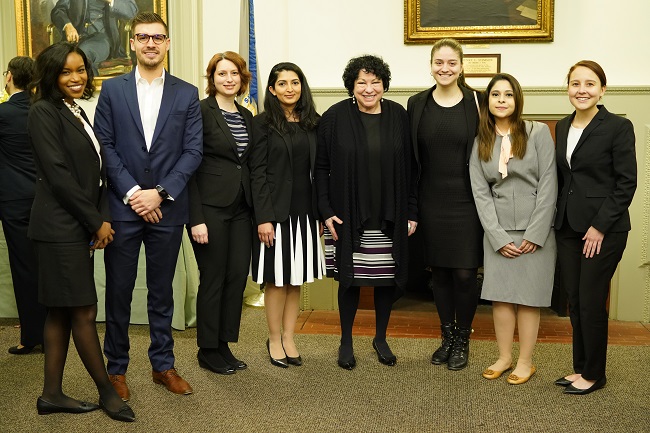 If you would like more information on our Student Ambassador program, please contact Melissa De Angelis at mdeangelis@nycbar.org.
2021 - 2022 Law School Student Ambassadors
Benjamin N. Cardozo School of Law
3L Victoria Lowe
2L Sangjun (William) Kim

Brooklyn Law School
3L Don Irwin
2L Anthony DiMauro
LL.M. Amina Rabi
CUNY School of Law
3L Nusrat Mowla
2L Dawa Lhamo
Fordham University School of Law
2L Grace Sullivan
LL.M. David Lugo
Hofstra University School of Law
3L Adam Gomes-Abreu
2L Arianna Goberdhan
New York Law School
3L Kira Lopez
2L Marlo Mitchell
NYU Law School
3L Gerti Wilson
2L Rochelle Ballantyne
LL.M. Caleb Adebayo
Pace University School of Law
3L Omar Youssef
2L Shelbire Paul
Quinnipiac University School of Law
3L Shannon Palm
2L Hunter Rizzuto
Rutgers School of Law
3L Deana Davis
2L Sameer Prasla
Seton Hall School of Law
3L Megan Black
2L Daniel Weiss
St. John's University School of Law
3L Stephanie Lamerce
2L Billy Michaca
LL.M. Massimiliano Caruso
Syracuse School of Law
3L Katharine Charnay
2L Zebedayo Masongo
Touro Law Center
3L Lauren Wray
2L Janay Lamb
University of Connecticut School of Law
3L Jeff Beck
2L Mumina Egal